Subscribe: Apple Podcasts | Spotify | Email | TuneIn | RSS
The concept of "policing in the 21st Century" is not only the implementation of a range of high-tech surveillance measures, including biometrics, but apparently also involves keeping it a complete secret from citizens … and even from their elected representatives.
At issue is one of the most controversial aspects of modern policing: the notion that if police can sweep all information into centralized databases and let an artificial intelligence algorithm do the investigative work of making connections in the data stream, then crimes can be prevented before they happen — pre-crime.
Despite an ongoing debate about potential errors in current systems, and even the legitimacy of predictive algorithms altogether (See: "Predictive Algorithms Are No Better At Telling The Future Than A Crystal Ball"), police departments across the nation are rolling out various versions of this technology. However, even worse than citizens apparently having little to no say about what their tax dollars are building, it is increasingly coming to light that these programs are being used without informing citizens at all.
I previously reported about the difficulty that journalists and activists have had in the notoriously police state infested Chicago, with the Chicago PD even refusing FOIA requests for details from well-known media like The Chicago Sun Times.
Now, in an explosive report from The Verge, reporter Ali Winston details how innocent residents of New Orleans might have been swept up in a dragnet of data collection without their knowledge. According to Winston, the private global data collection and analysis corporation, Palantir Technologies, helped launch a secret software program in 2012 with New Orleans police to track connections between gang members. As Winston rightly highlights, Palantir was founded by the CIA's venture capital firm, making the current findings exponentially worse for those who value civil liberties. Moreover, Winston documents the lengths that the partnership went to cover up the program's disclosure, even to city council members:
…the program escaped public notice, partly because Palantir established it as a philanthropic relationship with the city through Mayor Mitch Landrieu's signature NOLA For Life program. Thanks to its philanthropic status, as well as New Orleans' "strong mayor" model of government, the agreement never passed through a public procurement process.

In fact, key city council members and attorneys contacted by The Verge had no idea that the city had any sort of relationship with Palantir, nor were they aware that Palantir used its program in New Orleans to market its services to another law enforcement agency for a multimillion-dollar contract.

Even James Carville, the political operative instrumental in bringing about Palantir's collaboration with NOPD, said that the program was not public knowledge. "No one in New Orleans even knows about this, to my knowledge," Carville said.
Carville went on to say that he orchestrated the partnership between a domestic police force and a company known for Pentagon intelligence work in overseas warzones, based solely on his own idea that "it was a case of morality. Young people were shooting each other, and the public wasn't as involved as they should have been." That's about as frightening an admission to the justification for fascism as I've come across — and no one involved is even elected.
While specifics of who might have been affected by the program cannot be detailed due to the level of secrecy, based on what The Verge has compiled, they suggest that the data collection is far too comprehensive to fully eliminate the innocent from the dragnet:
Palantir's prediction model in New Orleans used an intelligence technique called social network analysis (or SNA) to draw connections between people, places, cars, weapons, addresses, social media posts, and other indicia in previously siloed databases. Think of the analysis as a practical version of a Mark Lombardi painting that highlights connections between people, places, and events. After entering a query term — like a partial license plate, nickname, address, phone number, or social media handle or post — NOPD's analyst would review the information scraped by Palantir's software and determine which individuals are at the greatest risk of either committing violence or becoming a victim, based on their connection to known victims or assailants.
I encourage everyone to read the full article at The Verge, as it offers a treasure trove of details about the background of Palantir, their connection to other police forces around the country, and the fact that not a single oversight committee appears to be aware of what data has been collected in New Orleans, on whom, and whether or not there has been any framework developed to ensure that innocent people will not be exploited by their predictive policing programs. Without the proper transparency, we are only left with this assurance from Palantir on their website, already made laughable by what little we know.
 

We design technology to help institutions protect liberty

Analytic technology, especially in the hands of powerful institutions that hold large volumes of data, can pose serious risks to privacy and civil liberties. That's why we build privacy-protective capabilities into our products, help customers understand how to use them responsibly, and work with advocacy groups and the policy community on how technology can be used to protect privacy interests today and in the future. We have always been, and continue to be, committed to helping organizations get value out of their data while protecting sensitive information from misuse and abuse.
Every police department should be open to requests from residents to explain their conduct; let's hope that the exemplary work from The Verge and sharing this information can help with that endeavor.
Nicholas West writes for Activist Post. Support us at Patreon. Follow us on Facebook, Twitter, Steemit, andBitChute. Ready for solutions? Subscribe to our premium newsletter Counter Markets.
Palantir: the 'special ops' tech giant that wields as much real-world power as Google
Peter Thiel's CIA-backed, data-mining firm honed its 'crime predicting' techniques against insurgents in Iraq. The same methods are now being sold to police departments. Will they inflame already tense relations between the public and the police?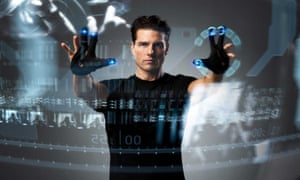 Palantir has made Minority Report a reality.
In Minority Report, the 2002 movie adaptation of the Philip K Dick novel, Tom Cruise plays a police officer in the LAPD "pre-crime" unit. Using the premonitions of sentient mutants called "pre-cogs", the police are able to predict when someone is going to commit a crime before it happens, swooping down from helicopters and arresting them on the street before they can do anything. Their "crime" is that they merely thought about it.
Palantir, the CIA-backed startup, is Minority Report come true. It is all-powerful, yet no one knows it even exists. Palantir does not have an office, it has a "SCIF" on a back street in Palo Alto, California. SCIF stands for "sensitive compartmentalised information facility". Palantir says its building "must be built to be resistant to attempts to access the information within. The network must be 'airgapped' from the public internet to prevent information leakage."
Palantir's defence systems include advanced biometrics and walls impenetrable to radio waves, phone signal or internet. Its data storage is blockchained: it cannot be accessed by merely sophisticated hacking, it requires digital pass codes held by dozens of independent parties, whose identities are themselves protected by blockchain.
What is Palantir protecting? A palantir is a "seeing stone" in JRR Tolkien's The Lord of the Rings; a dark orb used by Saruman to be able to see in darkness or blinding light. "Palantir" means "one that sees from afar", a mythical instrument of omnipotence.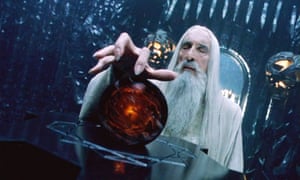 Saruman with his seeing stone in The Lord of the Rings.
In 2004, Peter Thiel – the billionaire PayPal co-founder, Facebook investor and and latter-day Trump ally – created Palantir alongside Nathan Gettings, Joe Lonsdale, Stephen Cohen and Alex Karp. Their intention was to create a company that took Big Data somewhere no one else dared to go. In 2013, Karp, Palantir's CEO, announced that the company would not be pursuing an IPO, as going public would make "running a company like ours very difficult". This is why.
Palantir watches everything you do and predicts what you will do next in order to stop it. As of 2013, its client list included the CIA, the FBI, the NSA, the Centre for Disease Control, the Marine Corps, the Air Force, Special Operations Command, West Point and the IRS. Up to 50% of its business is with the public sector. In-Q-Tel, the CIA's venture arm, was an early investor.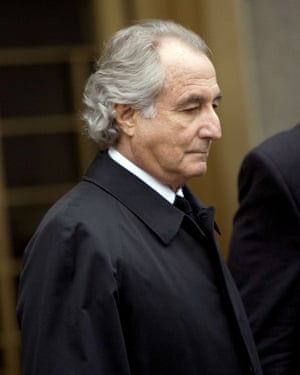 Palantir helped convict ponzi-schemer Bernie Madoff. Photograph: Sipa Press/Rex Features
Palantir tracks everyone from potential terrorist suspects to corporate fraudsters (Bernie Madoff was imprisoned with the help of Palantir), child traffickers and what they refer to as "subversives". But it is all done using prediction.
In Iraq, the Pentagon used Palantir software to track patterns in roadside bomb deployment and worked out garage-door openers were being used as remote detonators by predicting it.
Palantir allowed the marines to upload DNA samples from remote locations and tap into information gathered from years of collecting fingerprints and DNA evidence, the results returned almost immediately.
Without Palantir, suspects would have already moved on to a different location by the time the field agents received the results. Using the most sophisticated data mining, Palantir can predict the future, seconds or years before it happens. Samuel Reading – a former marine who has worked in Afghanistan for NEK Advanced Securities Group, a US military contractor – has said: "It's the combination of every analytical tool you could ever dream of. You will know every single bad guy in your area."
Palantir is at the heart of the US government, but with its other arm, Palantir Metropolis, it provides the analytical tools for hedge funds, banks and financial services firms to outsmart each other.
Palantir does not just provide the Pentagon with a machine for global surveillance and the data-efficient fighting of war, it runs Wall Street, too. Palantir is exactly what it says it is: a giant digital eye like Saruman's seeing stone in The Lord of the Rings.
On the streets of Chicago and Los Angeles, Palantir is getting closest to Philip K Dick's vision of the future, now. In the film, a premonition of an Orwellian thought-police state, crime rates drop to zero as the pre-crime unit successfully imprisons thousands of individuals for merely thinking of committing a felony.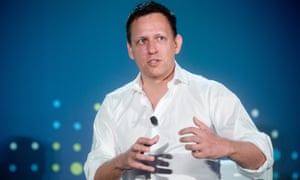 Palantir's co-founder Peter Thiel. Photograph: Bloomberg via Getty Images
However, when Cruise's character begins to question the morality of what he is doing, his superiors detect a threat to the entire pre-crime programme. In order to get rid of him, Cruise is framed for a murder by altering the data of his thought history. In the final showdown with his boss, it is explained to Cruise that sometimes the numbers need to lie for the greater good of society.
Minority Report is set in 2054, but Palantir is putting pre-crime into operation now. The Los Angeles Police Department has used Palantir to predict who will commit a crime by swooping Minority Report-style on suspects. Palantir calls its work with the LAPD "improving situational awareness, and responding to crime in real time".
Algorithms take in data on the location, time and date of previously committed crimes and this data is superimposed to create hotspots on a map for police officers to patrol. A 2013 video about "predictive policing" by the National Science Foundation features an officer explaining how they used one of these maps to prevent an assault "before it happened".
Military-grade surveillance technology has now migrated from Fallujah to the suburban neighbourhoods of LA. Predictive policing is being used on illegal drivers and petty criminals through a redeployment of techniques and algorithms used by the US army dealing with insurgents in Iraq and with civilian casualty patterns.
When the US is described as a "war zone" between police and young black males, it is rarely mentioned that tactics developed by the US military in a real war zone are actually being deployed. Is predictive policing as a counter-insurgency tactic a contributing factor in the epidemic of police shootings of unarmed black men in the past four years?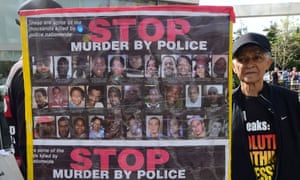 Could predictive policing contribute to police shootings of black people? Photograph: Frederic J Brown/AFP/Getty Images
One could argue that sophisticated pre-crime algorithms are not necessary when being black and male is seen as reason enough for the police to swoop. What predictive policing has done is militarise American cities, creating a heightened culture of suspicion and fear in areas where tensions are highest and policing is already most difficult. Officers being led to certain neighbourhoods solely because of an algorithm is enough to cause tension; enough to ignite a powder keg and push a delicate policing situation over the edge.
Ana Muniz is an activist and researcher who works with the Inglewood-based Youth Justice Coalition. "Any time that a society's military and domestic police become more similar, the lines blur," she told LA Weekly. "The military is supposed to defend the territory from external enemies, that's not the mission of the police – they're not supposed to look at the population as an external enemy."
In 2010, the LAPD announced a partnership with Motorola Solutions to monitor the Jordan Downs public housing project with surveillance cameras. In 2013, they announced the deployment of live CCTV cameras with facial-recognition software in San Fernando Valley, reported to be programmed to ID suspects on a "hot list".
Data merely becomes a new way of reinforcing old prejudices. Critics of these analytics argue that from the moment a police officer with the pre-crime mindset that you are a criminal steps out of their patrol car to confront you, your fate has been sealed.
In 2013, TechCrunch obtained a leaked report on the use of Palantir by the LA and Chicago police departments. Sgt Peter Jackson of the LAPD was quoted as saying: "Detectives love the type of information [Palantir] provides. They can now do things that we could not do before."
Palantir is immensely secretive. It wields as much real-world power as Google, Facebook, Amazon, Microsoft and Apple, but unlike them, Palantir operates so far under the radar, it is special ops.
• This is an extract from Done: The Secret Deals That Are Changing Our World by Jacques Peretti (Hodder & Stoughton, £20), available now. To order a copy for £17, go to bookshop.theguardian.com or call the Guardian Bookshop on 0330 333 6846. Free UK p&p over £10, online orders only. Phone orders min. p&p of £1.99.
Since you're here …
… we have a small favour to ask. More people are reading the Guardian than ever but advertising revenues across the media are falling fast. And unlike many news organisations, we haven't put up a paywall – we want to keep our journalism as open as we can. So you can see why we need to ask for your help. The Guardian's independent, investigative journalism takes a lot of time, money and hard work to produce. But we do it because we believe our perspective matters – because it might well be your perspective, too.
I appreciate there not being a paywall: it is more democratic for the media to be available for all and not a commodity to be purchased by a few. I'm happy to make a contribution so others with less means still have access to information.Thomasine F-R.
If everyone who reads our reporting, who likes it, helps fund it, our future would be much more secure. 
https://www.theguardian.com/world/2017/jul/30/palantir-peter-thiel-cia-data-crime-police
________________________________________________________________________________________________________________________________
PALANTIR – The Deep State's "Minority Report" Global Pre Crime Artificial Intelligence System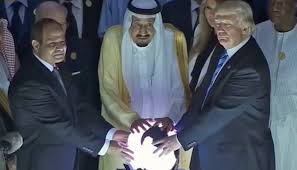 Those in the conspiracy research field are familiar with PROMIS software - the back-door spyware platform used by American and Israeli intelligence organizations to spy on police departments and government agencies around the globe for the better part of 20 years, culminating in the hack of the FAA on 9-11 and facilitating the horrible deeds of that tragic day. Well now there's a new artificial intelligence software tool on the block that makes PROMIS look like Atari's 'Space Invaders' (circa 1980). The name of it is Palantir, and its power to hack global Big Data systems and model human behaviour using complex predictive algorithms is unprecedented. And because it operates on blockchain technology, it is unhackable. [Above: Trump at the Saudi 'Global Center For Combatting Extremist Ideology' in Riyadh, which uses Palantir software.]

Observers point out that Palantir is as powerful as Google, Facebook, and Twitter combined. The software platform specializes in big data mining, machine learning, artificial intelligence, quantum computing, human behaviour algorithms, and the like, all to create models and simulations of society – from individuals to families to communities to nations. It works with banks, law enforcement, government agencies, and other human profile compilers to compile the ultimate databases on individuals and groups. The company behind it is private, and is in fact a CIA cut-out. Founded in 2004, it has received big funding from InQtel (a CIA venture capital fund), the Malaysian government, Peter Thiel (founder of PayPal), and… Jared and Josh Kushner.
Thiel and the Kushners, it turns out, have been long-time friends. Thiel has recently made the headlines for his investing in "Ambrosia" – the fountain of youth – a project to prolong human life by injecting the blood of young people in the body. Thiel and his gang were also behind the funding of Alibaba – the Chinese super-conglomerate. They also worked with the Chinese government to discover and root out the Chinese Dark web, which was being used to circumvent government censorship. Thiel's close relationship to the Kushners is suggestive that he may, in fact, be President Trump's "Shadow President."
Palantir is similar to Maltego, another backdoor software platform resembling Promis. The CIA has a system called PRISM (as revealed recently by Wikileaks), used for sifting Big Data hacks to build profiles on "persons of interest". While running for president, Trump is known to have employed the Cambridge Analytics system to analyze the American political landscape with incredible detail, telling him what to say and where to say it for maximum impact. Some attribute his sudden rise to power to this artificial intelligence software system. Prism, Maltego, Prism, Promis, and Cambridge Analytics are all software systems being used to track human beings by the government and law enforcement agencies of the US and its allies.
M.I.T. used CIA grant money to develop the Cambridge Analytics system. Palantir is just the latest incarnation of these control systems. The system manages and tracks individuals, and can even predict the future using advance-monitoring AI. It deploys something called the AQ – adversity quotient – to quantify risks associated with individuals or events, based on algorithmic assessment of all relevent data.
Palantir now provides the backbone of virtually every agency in the US government and its allies – except the US Army. The Army has its own AI, called ECLIPSE, developed by Raytheon. It doesn't want Palantir's ever-awakening artificial intelligence to contaminate its systems. The world's first quantum computers are being deployed in the service of these ominous systems. DynCorp and DARPA are teaming up to outdo all of this with their own Artificial Intelligence system in the service of the Pentagon.
Assembling vast sums of data into working models of society in real-time, Palantir can predict the future. Palantir is so complex that it is now being used to manipulate politics and media on a national level.
Using subversive algorithms, it is helping to shape and control the public narrative. Some are suggesting that it is directing the Deep State's war against Trump. Others have suggested that Trump himself is using Palantir to direct his own divide-and-conquer strategy of control.
David Gelernter was one of the early pioneers in the software development of all these "top-down" systems and an early proponent of predictive algorithms.Quinn Michaels is one of the principal conspiracy researchers into all of this. (See his site: indra.ai) Eliana Johnson is a journalist also keeping a close eye on this. Jason Goodman and George Webb of the "Awan Brothers Saga" fame, are also trying to get up to speed on all of this, noting that the Awan brother's father – Mohammed Shah – was involved in a precursor to all this, the Iridium system. Watch the following video to get up to speed yourself:
Do you remember Trump's first big overseas trip to Saudi Arabia back in May? Recall the photos of Trump and the Saudi King with their hands on a crystal ball? The scene resembled something out of the Xmen movies with their 'Cerebro' technology. Did you catch what that was all about? Well it turns out that crystal ball was operating a Palantir-based system!
The room in Riyhad had a sign on the wall reading: Global Centre for Combatting Extremist Ideology. In other words, it was a command-and-control centre for tracking and disabling "bad guys", as defined by the state of Saudi Arabia. If similar systems are coming to a neighbourhood near you – and they are – you might want to put on your tinfoil hat. The deriders of "conspiracy theorists" might start calling you derogatory names… and may even call the Thought Police at the Palantir-powered Ministry of Truth to claim you need to be watched carefully. Then again, you probably already are.
https://steemit.com/conspiracy/@truthseekerca/palantir-the-deep-state-s-minority-report-global-pre-crime-artificial-intelligence-system